(English)
Below is the diagram for someone who may want to know the architecture.
(Japanese)
中身のアーキテクチャがどうなっているのか知りたい人もいるだろうから図を書いておいたよ。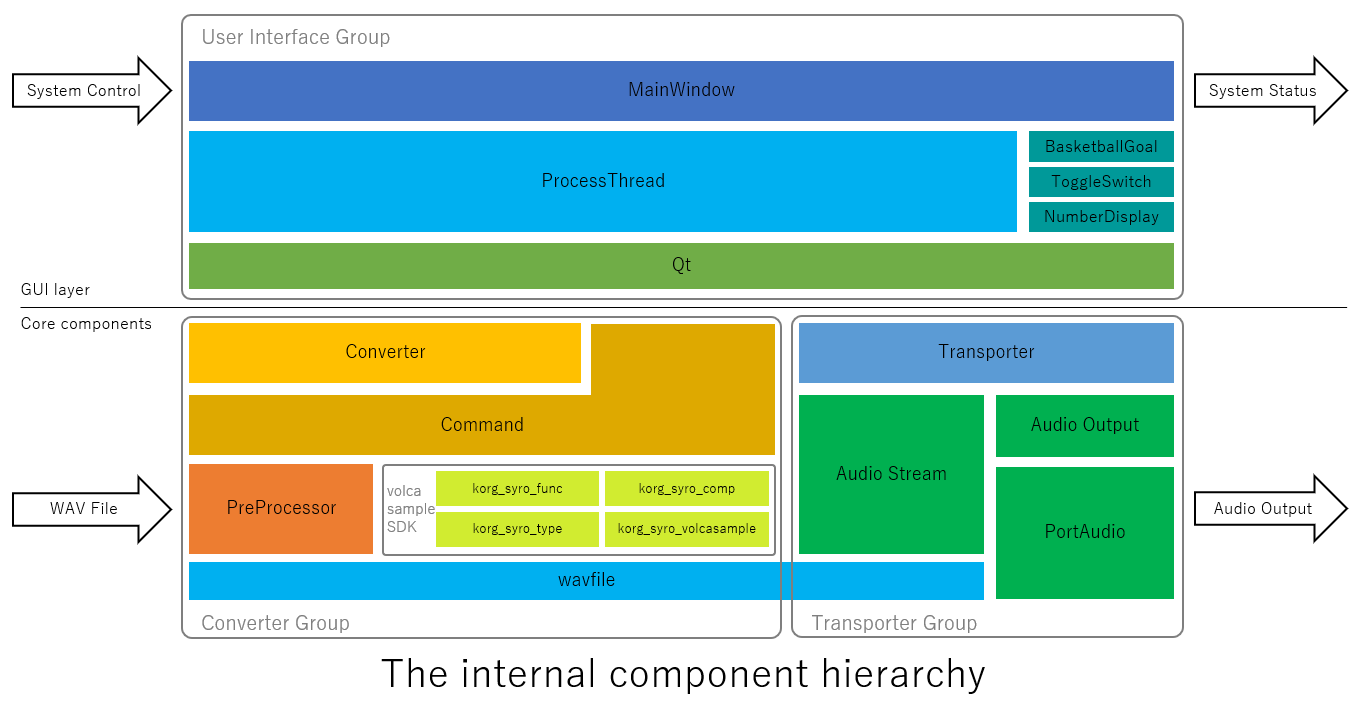 (English)
The software is designed with 2 layers. One core part that does not reply on the User Interface and will process the primitive data. The other part is the GUI part, which is literally the part that handles the User Interface and core part. Since we wanted to separate the core functions and the User Interface we made the core part functions independently as a lower layer library. In this way, you do not have to worry if the Use Interface needs to be completely different for some reason, and you can quickly add new features to solve the essential problems quickly. I recommend this method for your software development! to conclude, the core part of this software os roughly divided into 2 parts: a Converter part that processes input and a Transporter part that processes output. Looking at these block diagrams, the overall structure is easy to understand, isn't is?
(Japanese)
ソフトウェアは2層に分かれて設計されている。 コア部分がユーザーインターフェースに依存しないプリミティブなデータ処理を行う部分。 GUI部分は文字通り、ユーザーインターフェースとコア部分を操作する処理を行う部分だ。 基幹機能とユーザーインターフェースは分離できるようにしたかったので、基幹部分は下層ライブラリとして独立して機能するようにした。 こうすれば何らかの事情でユーザーインターフェースを全く別のものにしたくなった時でも困らずに済むし、新しい機能を追加する時も素早く本質的な問題から解決できるんだ。 この方法はお勧めだよ。 このソフトウェアの基幹部分は、入力を処理するConverter部分と、出力を処理するTransporter部分の二つに大きく分かれている。 こういったブロック図で見ると全体構造がわかりやすいね。